Whether you are a new or longstanding member of the Yale community, we invite you to Be Open and Be Curious about belonging at Yale.
Together with students, faculty, staff and alumni across our university community, Secretary and Vice President for University Life Kimberly Goff-Crews is leading Yale's work to promote an environment of welcome, inclusion, respect, and excellence at Yale.
Through Belonging at Yale, you can stay informed about actions and progress at Yale and celebrate the diversity of our community each month.
Finally, we encourage you to familiarize yourself with the many Belonging at Yale resources developed to help support learning, engagement, and connection.
Explore all that Belonging at Yale offers and share your ideas for how we can deepen a culture of belonging for you at Yale.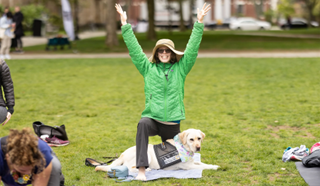 Join a student organization or employee affinity group, attend a lecture, or volunteer on a service project. Explore the many ways to engage in efforts to create a more inclusive, equitable, and welcoming community.
Review information on the policies that strengthen Yale's community of learning and protect all its members, university entities that study or foster diversity, equity, and inclusion, and relevant reports and policy statements.
Learn about and engage with antiracist concepts, techniques, and best practices to help support a sense of belonging for every community member.
Review a comprehensive list of resources for students, faculty, and staff seeking guidance, assistance, or information.
Highlighted resources include: