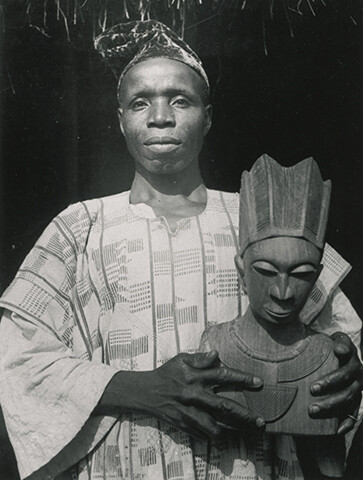 Event time:
Friday, September 9, 2022 - 10:00am

to

Sunday, January 8, 2023 - 5:00pm
Location:
Yale University Art Gallery (YUAG)
1111 Chapel Street
New Haven
,
CT
06510
Event description:
Bámigbóyè: A Master Sculptor of the Yorùbá Tradition is the first exhibition dedicated to the workshop of the Nigerian artist Moshood Olúṣọmọ Bámigbóyè (ca. 1885–1975). Part of a generation of Yorùbá woodcarvers with flourishing workshops in southwestern Nigeria, Bámigbóyè was highly regarded for the masks that he made in the 1920s and 1930s for ceremonies called Ẹpa. Today, these masks are considered some of the most spectacular and complex works of Yorùbá art ever created. Drawn from the collections of national and international museums, including the Yale University Art Gallery and the National Museum in Lagos, Nigeria, the masks and other sculptures in the exhibition—such as architectural elements from palaces and shrine complexes and objects made for a European clientele—present a nuanced account of the artist's 50-year career. A selection of textiles, beadwork, metalwork, and ceramics situates Bámigbóyè's work within the broader scope of 20th-century Yorùbá creative expression, while archival images show how his life and workshop practice reflect the artistic, religious, and political changes taking place in Nigeria at the time. With video footage of an Ẹpa performance staged by the artist's family in honor of the exhibition Bámigbóyè: A Master Sculptor of the Yorùbá Tradition celebrates the global legacy of this artist while also underscoring his enduring importance to his community.