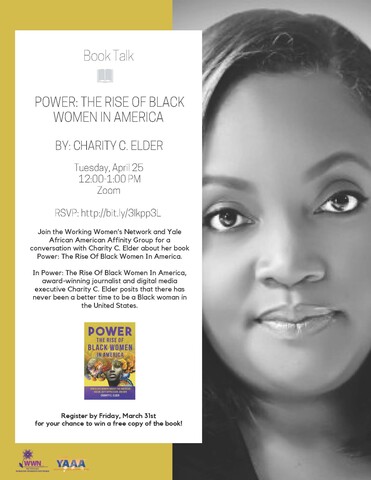 Event time:
Tuesday, April 25, 2023 -

12:00pm

to

1:00pm
Event description:
Join the Working Women's Network and Yale African American Affinity Group for a conversation with Charity C. Elder about her book Power: The Rise Of Black Women In America. Register by Friday, March 31st for your chance to win a free copy of the book!
Before sea to shining sea. Before spacious skies were pierced by purple mountains. Before the uniting of one nation. Black women learned to rise. In Power: The Rise Of Black Women In America, award-winning journalist and digital media executive Charity C. Elder posits that there has never been a better time to be a Black woman in the United States.
Power is an incisive disquisition on Black womanhood weaving theoretical frameworks of history and sociology with poignant interviews, ethnographic observation, and anecdotes gleaned from history, social media, pop culture, and the author's lived experiences.
Admission:
Free but register in advance