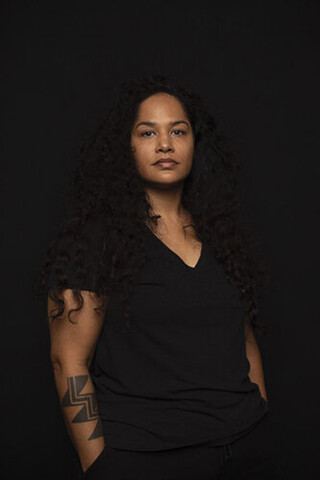 Event time:
Thursday, April 13, 2023 - 3:00pm
Location:
Yale University Art Gallery (YUAG)
1111 Chapel Street
New Haven
,
CT
06510
Calendar Speaker/Performer:
Natalie Ball with Royce K. Young Wolf
Event description:
Join Natalie Ball and Royce K. Young Wolf for a conversation about ancestral memory, land, and identity. Ball is a Klamath, Modoc, and African American mother, scholar, artist, and land activist. Her artistic works and her scholarship reveal intersecting lives, lands, and hidden histories. She earned a B.A. in Race and Ethnic Studies and Art from the University of Oregon, Eugene; an M.A. in Indigenous Contemporary Art from Massey University, Palmerston North, New Zealand; and an M.F.A. in Painting and Printmaking from the Yale School of Art, New Haven, Connecticut. Her works reveal a visual genealogy about the impacts of misrepresentation and the complexities of Native American and Indigenous identity and art. Ball is joined in conversation by Royce K. Young Wolf (Eastern Shoshone, Hidatsa, and Mandan), the Andrew W. Mellon Postdoctoral Associate in Native American Art and Curation and Yale University Presidential Visiting Fellow. Generously sponsored by the Gallery's Martin A. Ryerson Lectureship Fund, the Yale School of Art, the Department of the History of Art, the Yale Peabody Museum, the Yale Group for the Study of Native America, and the Yale Native American Cultural Center.
This event is free and open to the public both in person and online.
On Zoom, closed captions will be available in English. Registration required for virtual attendance; to register, visit https://bit.ly/41BFIRj.
Attend live at 36 Edgewood Avenue, Floor 2, Room 204, in New Haven; no registration required.