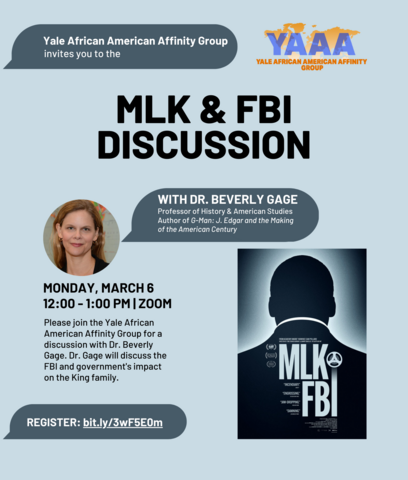 Event time:
Monday, March 6, 2023 -

12:00pm

to

1:00pm
Event description:
Please join the Yale African American Affinity Group for a discussion with Dr. Beverly Gage, Professor of History & American Studies, and author of G-Man: J. Edgar and the Making of the American Century. Dr. Gage will discuss the FBI and government's impact on the King family.
Access to the MLK/FBI documentary film (106 minutes) can be found at: https://orbis.library.yale.edu/vwebv/holdingsInfo?bibId=15886437. While not required to attend this event, we recommend watching the film in preparation for our discussion with Dr. Gage.
More about the film - Dr. Martin Luther King Jr. is remembered as an American hero: a bridge-builder, a shrewd political tactician, and a moral leader. Yet throughout his history-altering political career, he was often treated by U.S. intelligence and law enforcement agencies like an enemy of the state. In this virtuosic film, award-winning editor, and director Sam Pollard lays out a detailed account of the FBI surveillance that dogged King's activism throughout the '50s and '60s, fueled by the racist and red-baiting paranoia of J. Edgar Hoover. In crafting a rich archival tapestry, featuring some revelatory restored footage of King, Pollard urges us to remember that true American progress is always hard-won.
Admission:
Free but register in advance