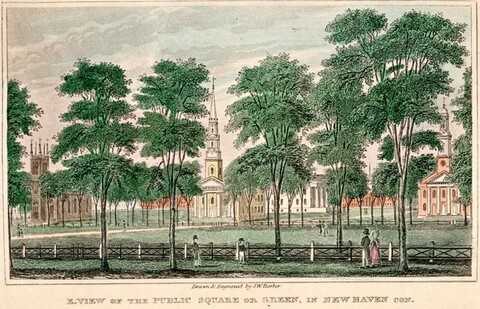 Event time:
Sunday, September 10, 2023 -

12:00pm

to

4:00pm
Location:
Beinecke Rare Book and Manuscript Library (BRBL)
121 Wall Street
New Haven
,
CT
06511
Event description:
All are invited to this one day display of collections material and a video screening about an essential story of New Haven in 1831: the visionary – and thwarted – proposal for a Black college that would have been America's first historically Black college (HBCU).
Come to the Beinecke Library on Sunday, September 10, 2023, between 12noon and 4pm, and learn more about the proposal – and about the town meeting held on the same date 192 years ago, September 10, 1831, that blocked the college with resolutions drawn up by top leaders of New Haven, many of them connected with Yale.
This event is co-sponsored by Beinecke Library and the Greater New Haven African American Historical Society.
You will be able to see original newspapers, pamphlets, and maps, from 1831 and that era on display in the library's courtyard level reading room, along with facsimiles and some contemporary secondary sources about the story.
There will be multiple screenings of the short documentary film, "What Could Have Been," produced by the library. The film is also on YouTube (https://youtu.be/gmXF3N62Olo). With a run time of about 25 minutes, the documentary will be screened in a library classroom on Sunday, September 10, beginning at 12:30pm and be screened again every half hour or so, with the last screening about 4pm.
Kindly note: all visitors who go to the reading room will need to check any and all bags, coats, and other personal belongings in secure lockers on the library's ground floor before going to the reading room.
Participants are also encouraged to visit the Grove Street Cemetery, 227 Grove Street, nearby the library. The cemetery is the final resting place of many of the key figures who promoted and supported the Black college proposal and to many of its main opponents.