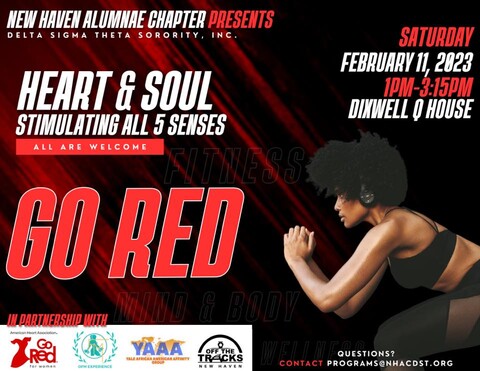 Event time:
Saturday, February 11, 2023 -

1:00pm

to

3:15pm
Location:
(see "Description" for details) ()
Event description:
Go Red for Women, a signature initiative of the American Heart Association, is a comprehensive platform designed to increase women's heart health awareness and serve as a catalyst for change to improve the lives of women globally. Cardiovascular disease is the No. 1 killer of women, causing 1 in 3 deaths each year, but the simple truth is that most cardiovascular diseases can still be prevented with education and healthy lifestyle changes. (https://www.goredforwomen.org/en/).
New Haven Alumnae Chapter invites you to "Heart & Soul: Stimulating all 5 Senses". Join us for an afternoon of educational awareness by Barbara Wade Holloman, Survivor Ambassador for the American Heart Association, physical fitness activities, healthy eating tips, meditation, raffles and more! The program's goal is to shed light on the fact wellness is more than merely physical health, exercise, or nutrition. It is the full integration of physical, mental, and spiritual well-being which all of these can help protect against the onset of chronic diseases.
This program will be held on Saturday, February 11, 2023, at 1:00PM; Dixwell Q House, 197 Dixwell Ave, New Haven, CT.
In partnership with:
American Heart Association
OFM Experience
Yale African American Affinity Group
Off the Tracks - New Haven
All are invited! Contact programs@nhacdst.org for more information.