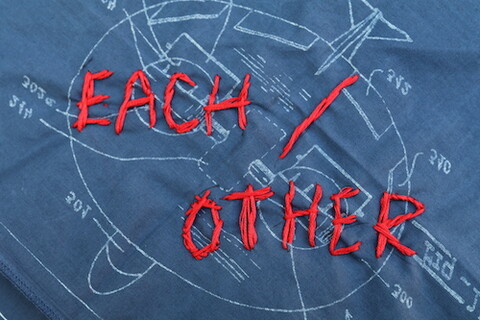 Event time:
Sunday, January 17, 2021 - 2:00pm
Calendar Speaker/Performer:
Cannupa Hanska Luger and Marie Watt
Event description:
What would the world look like if, as humans, we thought of ourselves as companion species? Can acts of creative collaboration help heal broken bonds with the environment and with each other? Cannupa Hanska Luger (Manda, Hidatsa, Arikara, Lakota) and Marie Watt (Seneca), M.F.A. 1996, invite the public to consider such questions while contributing to the physical manifestation of a large-scale sculptural installation.
In conjunction with the Gallery's exhibition Place, Nations, Generations, Beings: 200 Years of Indigenous North American Art and in preparation for the collaborative project Each/Other at the Denver Art Museum, artists Cannupa Hanska Luger and Marie Watt host a virtual sewing circle. Gathering together on Zoom, the artists will lead us in a shared practice of making a monumental artwork and reflecting on the Gallery's exhibition, in which artwork by both Luger and Watt are featured.
Registration is required and space is limited. To register, visit https://bit.ly/37Bfoge.
No sewing experience is necessary and all ages are encouraged to participate. Participants are invited to bring their own materials: a bandana or a piece of fabric roughly 22 inches square, needle, and thread; embroidery hoop is optional. Email yuagprograms@yale.edu with any questions or if you are in need of materials. More information will follow registration.
Closed captions will be available in English. Generously sponsored by the Martin A. Ryerson Lectureship Fund.
Though space is limited at the virtual sewing circle, all are welcome to embroider a message onto a bandana or piece of fabric, which artists Luger and Watt will incorporate into a forthcoming large-scale sculpture for the Each/Other exhibition at the Denver Art Museum (https://www.denverartmuseum.org/exhibitions/each-other). 
Instructions:
1. Acquire a bandana or a piece of repurposed fabric roughly 22 inches square.
2. Fold bandana/fabric corner to corner to create a triangle.
3. Embroider/stitch text, imagery, or any other visual sentiment onto a corner portion of the fabric.
4. Embroidered fabric should be mailed to the artists at this address by January 25, 2021:
Camp Colton
c/o Each/Other
30088 S Camp Colton Drive
Colton, OR 97017
Learn more about Cannupa Hanska Luger at https://www.cannupahanska.com and Marie Watt at https://www.mariewattstudio.com. Find information about the exhibition Place, Nations, Generations, Beings at https://artgallery.yale.edu/exhibitions/place-nations-generations-beings.