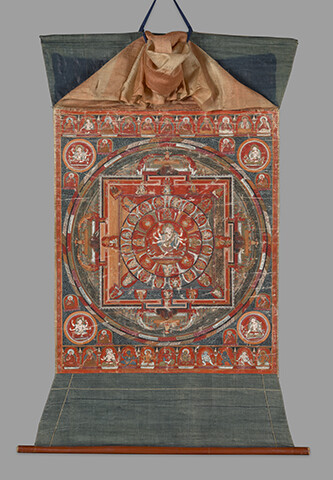 Event time:
Wednesday, February 8, 2023 - 12:30pm
Calendar Speaker/Performer:
Event description:
Although known as early as the 7th century, there is little visual evidence for Buddhist practice in Tibet until the 11th when paintings and sculptures illustrate an astonishing array of enlightened beings such as buddhas and bodhisattvas, guardians and guides. After introducing the primary types of deities featured in Tibetan practices, Denise Patry Leidy, the Ruth and Bruce Dayton Curator of Asian Art, highlights a newly acquired, and spectacular, 16th-century Tibetan mandala focused on the protective deity Sitatapatra (White Parasol), a guardian against malign supernatural forces. Recently conserved and on view for the first time, this mandala was produced in Ngor Monastery in central Tibet, famed for its painting workshops. It was commissioned by one of the abbots of this establishment in honor of an earlier teacher. Generously sponsored by the Martin A. Ryerson Lectureship Fund.
Closed captions will be available in English.
Registration required; to register, visit https://bit.ly/3vGTymO.