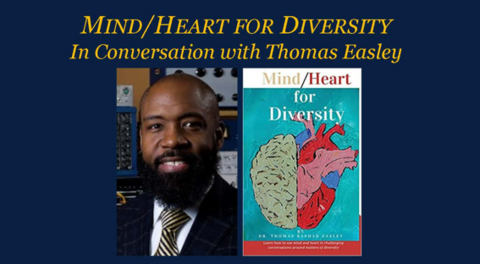 Event time:
Thursday, November 4, 2021 - 7:00pm
Calendar Speaker/Performer:
Event description:
Join Yale Blue Green for an interactive livestream conversation with Thomas RaShad Easley, former assistant dean for community and inclusion at the Yale School of the Environment and author of the new book Mind/Heart for Diversity. This book was written to teach us how to use both our minds and hearts simultaneously when engaged in difficult conversations or challenging circumstances around matters of diversity, equity, and inclusion. Sustainability leaders who want to implement or lead diversity initiatives will learn how to be oriented for results and action while being sensitive to the needs of others. We need to understand that we can only control ourselves, reminding us to use our minds and hearts when working in diversity. Easley will share excerpts from the book and lead a discussion on how to create meaningful change through your efforts. Come with your questions and challenges!
Moderating the discussion is Georgia Silvera Seamans '01 MEM. She is an urban and community forester, and director of Washington Square Park Eco Projects in New York.