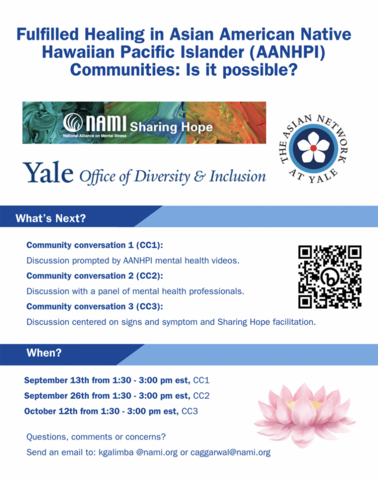 Event time:
Tuesday, September 26, 2023 -

1:30pm

to

3:00pm
Event description:
Join us for an enlightening and insightful community conversation as we engage with a panel of esteemed mental health professionals who belong to the Asian American, Native Hawaiian, and Pacific Islander (AANHPI) community. This unique event is part of the series: "Fulfilled Healing in AANHPI Communities: Is it Possible?"
Our panel of experts brings a wealth of knowledge and personal understanding of the challenges and triumphs that individuals from the AANHPI community face in the realm of mental health. This event is not just an opportunity to ask questions; it's a platform for open dialogue and the sharing of experiences.
Key Discussion Points:
•AANHPI Identity and Mental Health
•Breaking Stigmas
•Developing an action plan
•What is it like to seek mental wellness support?
•Early Intervention
•Access to Mental Health Services
•Self-Care and Self-Advocacy
This community conversation aims to foster empathy, raise awareness, and provide practical insights into maintaining mental well-being. Attendees are encouraged to ask questions, share their experiences, and engage in a supportive and inclusive dialogue with our panel of experts.
Don't miss this opportunity to connect, learn, and grow together!
Guest Speakers:
•Babu George Matthew
•Muzna Abbas
•Quynh Tran
•Zandra Galimba (Santella)
Admission:
Free but register in advance