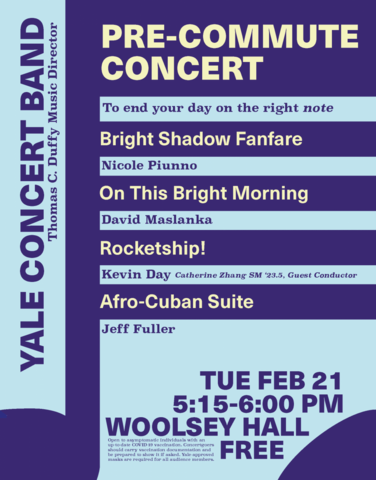 Event time:
Tuesday, February 21, 2023 -

5:15pm

to

6:00pm
Location:
Woolsey Hall (WOOL)
500 College Street
New Haven
,
CT
06511
Event description:
Yale Concert Band, Thomas C. Duffy, Music Director.
Our students want you to hear them play in the Yale Concert Band, without you having to come back to campus after a long day of work! Announcing the "Pre-Commute Mini-Concert" on Tuesday, February 21 at 5:15 p.m. – a 45-minute free concert in Woolsey Hall at the end of the work day.
Come for one or all of the four compositions on the short program:
• "Afro-Cuban Suite." The Yale Concert Band commissioned this piece from New Haven-based composer, bassist, and educator Jeff Fuller ES'67/YSM'69 and performed the world premiere in Woolsey Hall this past Friday, February 10. Fuller is widely known as a jazz bassist who specializes in Latin music, and his suite ranges stylistically from bembé to bolero, from rumba to mambo. Fuller describes it as "my sincere homage to the music, musicians, and culture of Cuba," further stating, "Cuban music has forged a deep river of inspiration which has carried me through decades of my professional life. To me, Cuban music and American jazz are two branches of the same tree." The dedication reads: "It is with much respect that I dedicate this work to Professor Robert Farris Thompson, Ph.D. (1932–2021). He lived a long and fruitful life, passionately dedicated to the understanding of 'Afro-Atlantic' culture — to use a term he coined. He was a popular professor of African Art History at Yale, where his classes would sometimes feature musical performances by well-known African, Cuban, and Puerto Rican musicians. His spirited enthusiasm for the music was contagious, and he could frequently be heard on campus humming, singing, or reciting Afro-Cuban rhythms. ¡Mambo en paz, Prof. Bob!"
• "Bright Shadow Fanfare" (Nicole Piunno).
The intense contrast in "Bright Shadow Fanfare" refers to two possible meanings. It could mean bringing our darkness into the light in order to integrate it with our true self. It could also mean revealing our positive traits and gifts that we may not allow ourselves to show or give to others.
• "Rocketship!" (Kevin Day) – Catherine Zhang Yale SM '23.5, guest conductor (clarinetist and drum major emeritus of the Yale Precision Marching Band).
"Rocketship!" is an energetic concert piece formed by two sections which express energy in different ways. The first is composed of short rhythmic patterns that start quietly before building to the end of each phrase. The second section introduces a marching snare drum solo accompanied by open fifths, known as power chords, in the winds. Brief motives accompany the sustained power chords, but quickly dissipate as a new motive begins. The different sections shrink as the composition develops until they are played one after the other at the very end.
• On This Bright Morning (David Maslanka)
There are times of stability in life, and times of significant transition. Transitions can be upsetting, often provoked or accompanied by physical or emotional troubles. They are times of uncertainty and unknowing, but also the times of greatest creative change. "On This Bright Morning" acknowledges the struggle, and the feelings of pain and loss in times of transition, but embodies the pure joy of realizing the bigger life. On this bright morning, life is new, life is possible.
Open to asymptomatic patrons with an up-to-date vaccination status. Patron should carry vaccination documentation and be prepared to show it if asked. Yale-approved masks required for all audience members.